Welcome to the nickel tour of our home!
(click any image for full size)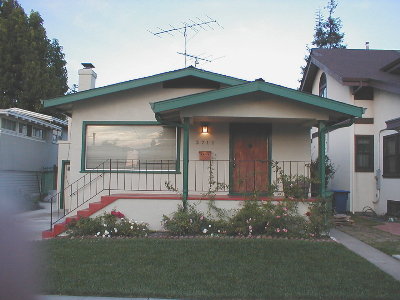 We are blessed with what is called a Craftsman Bungalow. Before we bought this place, I had no idea there was a whole architectural movement called Craftsman! What a surprise. When we first moved in, my wife bought a book entitled, Inside The Bungalow . So I'm looking at the book and looking at the house and Wow! Look at what we have!
When we first got the place, it had been a rental for a very long time and needed some help. I'm sure than most of the people who have lived here have appreciated it, but being renters, they weren't about to put much money into a property they didn't own. The owners weren't going to put much money into the property either as they do little to bring in more money. At the time we bought it the roof didn't leak. That didn't last long unfortunately. It also needed an exterior paint job. The dining and living rooms had this very old wall-to-wall carpet, which was rather unattractive. With a house of this age, I knew there were oak floors, so before we moved in, we had the floors repaired, sanded and I put on a finish of Waterlox. Great stuff! It's a marine grade finish that is a penetrating resin sealer. It is easy enough for most anyone to put on, unlike urethane varnish, and it is much more durable.
I'll be adding to this page as time and projects go on.
The living and dining rooms