Living room and dining room
(click any image for full size)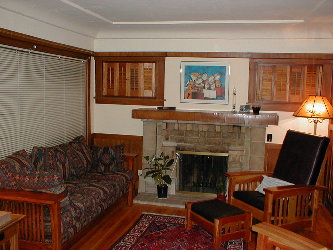 It is typical of Craftsman homes to have a lot of unpainted wood in them. In many of these homes people have painted over the woodwork in an attempt to brighten and modernize the decor. It always looks terrible.
It is most likely due to the general neglect of this house being a rental over the years that the woodwork was not painted. What a blessing! The window frames are unpainted as are the wood wainscoating. Together with the oak floor and wooden mantle, it gives the room a very warm feeling.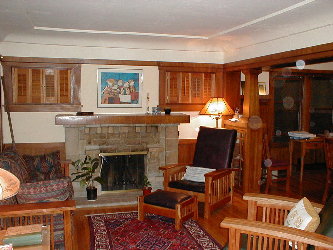 In keeping with this theme, it is typical in Craftsman homes, to use what is called Mission style furniture and light fixtures with mica shades. We purchased the furniture you see here. The couch has an oak frame and the Morris chair with footstool are made of cherry. The lamp behind the Morris chair was a flea market find for $4 which was then refinished, rewired and renewed with a mica lampshade from Sue Johnson's Lamp Shop of Albany, California.
Indeed everything about the room and the things in it are intended make it feel warm and welcoming. Note that the carpet and material covering the couch all contribute to this intent.
The ceiling light fixture below, from the dining room, is also a mica shade from Sue Johnson's Lamp Shop. The glow from the fixture only adds further warmth to the room. Everything from Sue Johnson's lamp shop is a handmade work of art. Though not cheap, this fixture is positively a bargin compared to similar stained glass fixtures such as those made by Arroyo Craftsman.
The latest addition to the room is the stenciling work around the top of the dining room as seen in the center and right hand images below. This was done with materials and tools sold by Amy Miller, of Trimbelle River Studio & Design. This is their "Oak Park" design.