College of San Mateo Jazz Band 1977
(click images to enlarge)

The CSM Jazz Band, in the 1970's, under the direction of Fred Berry is something of a legend in the San Francisco Bay Area. Many of the players in that band went on to professional careers or have spent their whole lives playing the music they love. This recording is from a vinyl test pressing of four tracks they recorded in 1977. This record came from the collection of David Torelli, who at the time, was the chief recording engineer for Sonic Arts Studios in San Francisco.
Remember that back in 1977, there were no CD players or streaming digital audio. As a matter of fact, there were no digital recorders in the studios of the day. The highest quality recording possible at that time was recording "Direct to Disk", where the recording engineer did a live mix and the two track signal was sent directly to a cutting lathe. There were no extra takes, splicing, post processing, EQ, etc, etc. It was what it was. If you truly wanted the very, very best quality of recording, you recorded at 45 RPM!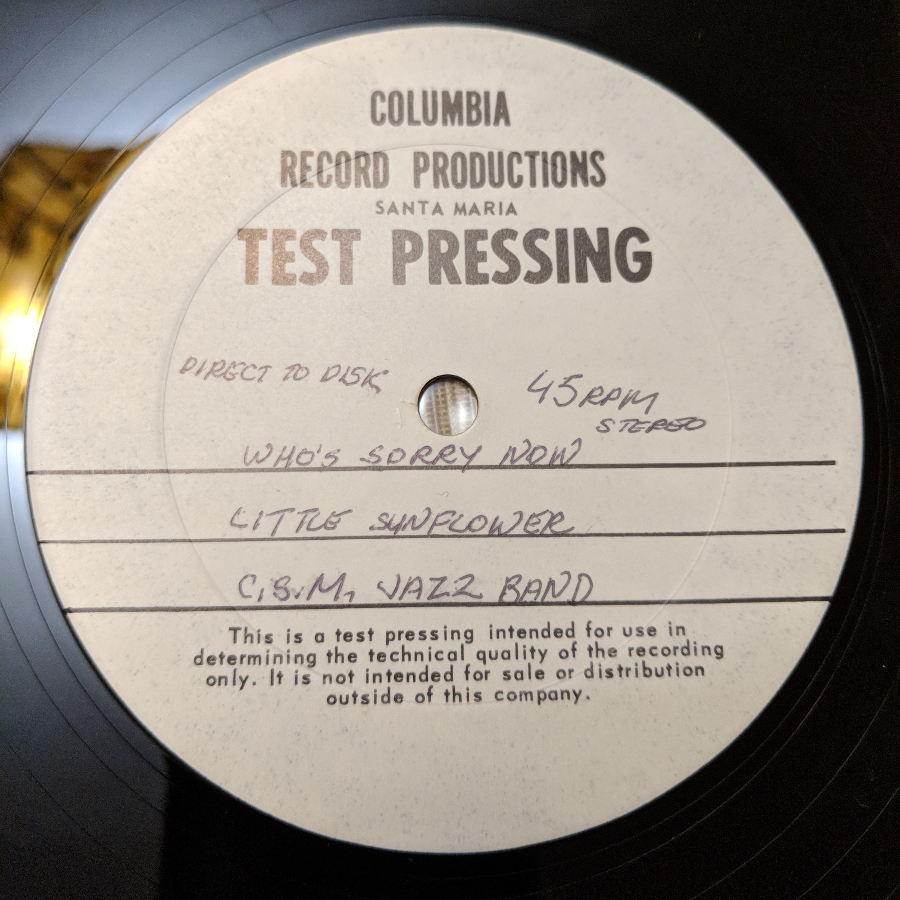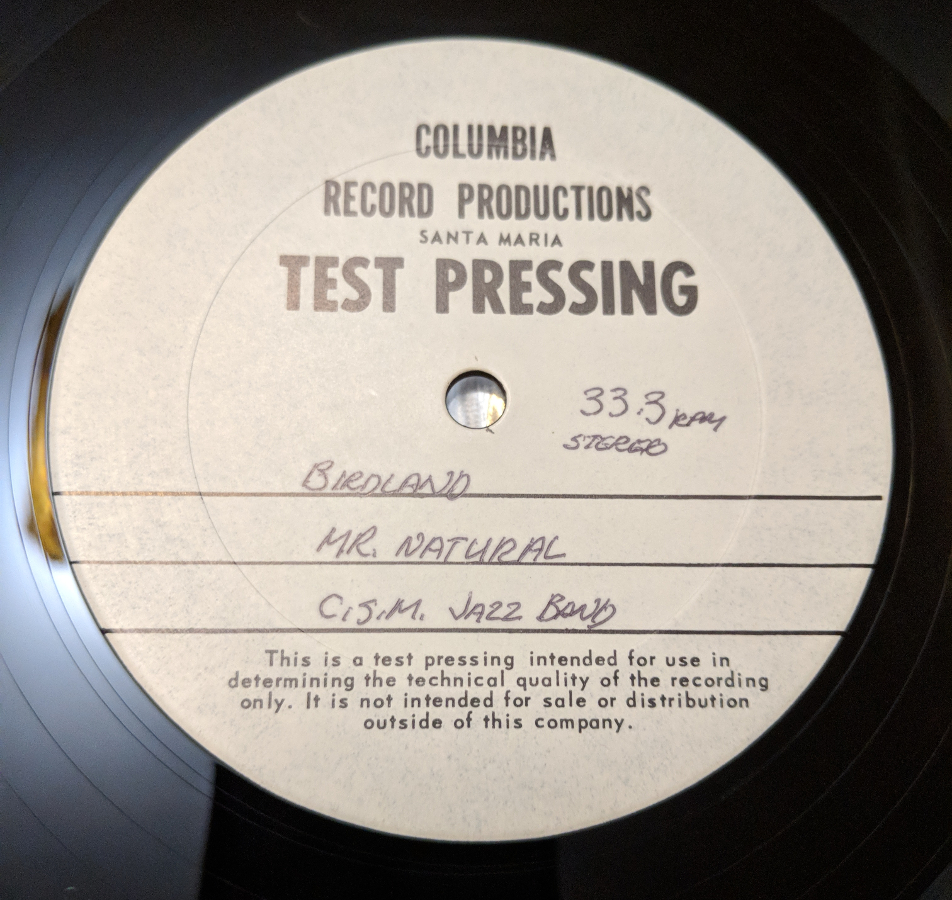 This test pressing is most unusual in that one side is a direct-to-disk recording done at 45 RPM. For you audiophiles out there, this is a real treat. This record has probably only been played a handful of times and is in very good condition. It has absolutely excellent clarity, detail and best of all, DYNAMICS! For those of you with exceptional audio systems, this is one your're going to want to crank up! Wow...
For you audiophiles who care about such things, "Who's Sorry Now" and "Little Sunflower" were both recorded at the same time. The disk itself has about 30 seconds of space between the tracks. Although I've edited this so that you can listen to each track separately, on "Who's Sorry Now", I included that 30 seconds of dead time before "Little Sunflower" and then the beginning of "Little Sunflower". Imagine being in the studio with the band where all of the players are holding their breath and very quietly moving their music around and such. If you listen closely, you can hear very light footfalls. That tells you just how quiet this direct to disk process was.
You can listen to tracks by left-clicking the links below, or you can download them by right-clicking them.
Tracks are recorded at CD quality, 44.1 khz,16 bit resolution

Personnel listing, a product of imperfect memories... If you know of names that should be here or are incorrect, please get in touch.
Fred Berry - musical director
Peter Lemberg - Alto/Soprano Saxophones
Claudia Baker - Alto Saxophone
Todd Dickow - tenor saxophone
Dan Dierkes - tenor saxophone
David Call - baritone saxophone
Jeff Hughes - trumpet
Steve Stanley - trumpet
Roger Anderson - trumpet
Tami Ellis - trumpet
Earl Johnson - trumpet
Larry Stone - trumpet
Gina Johnson - tenor bone
Kevin Johnson - tenor bone
Jeff Moresi - tenor bone
Bob Barnett - tenor bone
Steve Fitzsimmons - bass bone
Lou Biacaniello - piano
Francis Barnes - guitar
Rob Robertson - bass
Rick Lawton - percussion
Tim Bickel - drums


David Tonelli signed and dated when he received all of his records. Note that he added this record to his collection in 1992, even though it was recorded 15 years earlier in 1977. I'm going to speculate that he may have taken ownership of it when Sonic Arts went out of business.